Procedure for Complaints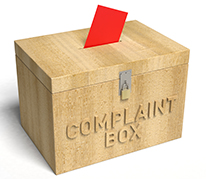 We aim to give a friendly and professional service to all our patients. However if you have any concerns about any aspect of our service please let us know. 
In any organisation, things do go wrong.  If this happens we want to know so that we can try and prevent problems in the future.  If you need to make a complaint about any services received at Woodhouse Health Centre please get in contact with our Complaints Manager using the following methods:
In writing - using the form provided in our complaints procedure located here:  Complaints Procedure Form (pdf)
Contact us via phone on: 0114 2293090
Email your complaint to: SHECCG.WoodhouseHealthCentre@nhs.net
For further information regarding complaints please see out Complaints Procedure Form linked above.
We will acknowledge your complaint within 3 working days. When we look into your complaint, we will investigate the circumstances; make it possible for you to discuss the problem with those concerned; make sure you receive an apology if this is appropriate, and take steps to make sure any problem does not arise again.